Engineered Replacement Parts
Established in 1977, ProCast® has developed and maintained a reputation for providing the very highest quality foundry and machining services. The combined resources of the ProCast Team and ITT assures the fastest possible response to the replacement pump parts and rotating equipment parts needs of industrial customers worldwide. Our high quality replacement parts often exceed OEM specifications
ProCast controls all aspects of production to include reverse engineering, pattern making, casting, machining and quality control. The ProCast value package of exceptional quality, service, price, large inventory and rapid delivery will be unequaled by any other alternate source within our marketplace. We always aim to meet and exceed the needs and expectations of our customers. 
Manufacturers and Markets Served
ProCast has cataloged over 16,000 different replacement parts for the pulp & paper, chemical, power generation, hydrocarbon, mining and general industrial markets. Manufacturers include Sulzer, Ahlstrom, Warren, Flowserve, Durco, I-R, Worthington, Bingham, Warman, KSB, Impco, Sunds, Lightnin, Nash, Kamyr, Bird Machines, Black-Clawson, Beloit , Beloit-Jones, Voith and many more. See "Parts List" tab for more detailed listing. 
The ProCast Solution
Competitive priced replacement parts that meet or exceed OEM's specifications 
Large parts inventory for many major OEMs 
Rapid Response Capability to meet your most urgent needs 

3D Digital Scan and 3D Modeling software technology for rapid and accurate duplication of sample parts 
Rapid Pattern Manufacturing utilizing 5 Axis CNC Router 

Modern Alloy Foundry offering many different alloys 
Metallurgical Engineer on Staff 
Production Machine Shop with extensive CNC machining capability 
ISO 9001:2000 Quality Certified 
In-house hydraulic and mechanical design expertise 
Experienced and knowledgeable sales and service reps worldwide 
One Year Warranty (material and workmanship)
Capabilities
Reverse Engineering

ProCast utilizes the very latest technology for reverse engineering parts to assure fast and accurate reproduction of the component.  There is no pump part so complicated it can't be replicated quickly and inexpensively.  Using a Platinum FARO Laser ScanArm and powerful 3D modeling software, complex geometries and free form surfaces are rapidly scanned and digitized to create a fully surfaced CAD model which can be used to record and accurately reproduce the item. A sample component part is all that is required.  
Data acquisition using this articulated arm gathers three-dimensional data within a six foot sphere, enabling dimensions to be repeatable to within 0.001". The FARO Arm is portable and can travel to customer site locations when necessary.
Rapid Pattern Manufacturing
Our state-of-the-art pattern shop utilizes a 5 Axis CNC Router to create patterns accurately, quickly, and inexpensively. This technology allows us to move from the traditional pattern making methods, based on 2D drawings to modern, computer based 3D modeling and machining. The use of 3D models downloaded directly into the 5 Axis CNC Router removes the ambiguity inherent in 2D drawings. The result is greatly improved accuracy, reduced cost, and shortened delivery times.
ProCast Foundry
With more than 25 years of experience, the ProCast™ foundry (http://procastfoundry.com) located in Cullman, Alabama has been producing quality sand castings for customers throughout the world. Operating with a job shop mentality along with a very flexible work force, the ProCast foundry is geared to rapid casting technology in order to meet lead times that few foundries can equal.
Casting materials offered are:   ferrous-based ranging from carbon steel to various corrosion resistant stainless steels, duplex / super duplex stainless steel, and nickel alloys.  See complete list of materials under "ProCast Material List."
Our flexibility of alloys allows us to give our customers various material options from one pattern. Castings are produced in the weight range up to 2500 lbs. (1134kg).
The ProCast foundry has the added advantage of having our own stand-alone pattern shop which utilizes a 5 Axis CNC Router (for fast, accurate, and inexpensive patterns), and employs three journey pattern makers. Our pattern makers work with wood and plastic materials producing high quality patterns from either 3D Solid Models, 2D Drawings or replicating from used/worn parts.
A full-time metallurgical engineer is on staff and is available to answer any questions you may have.
All chemistries are checked using a solid state spectograph to ensure all alloys are manufactured ASTM requirements. 
ISO 9001:2000 Certified.
ProCast Material List - Others Available Upon Request
Carbon Steels
Specification Cast Grade: WCB
Martensitic Stainless Steels
Specification Cast Grades: CA15, CA6NM (410)
Precipitation Hardened Stainless Steels
Specification Cast Grade: CB7Cu-1 (17-4PH), CB7Cu-2 (15-5PH)
Corrosion Resistant Stainless Steels
Specification Cast Grade: CF3 (304L), CF8 (304), CF3M (316L), CF8M (316), CG3M (317L), CG8M (317), CN7M (Alloy 20), CK3MCuN (254 SMO)
Duplex Stainless Steels
Specification Cast Grades: CD4MCu, CD4MCuN, A890 Gr. 3A, 4A (2205), 5A
Nickel Base Alloys
Specification Cast Grades: CW12MW, CW2M, CW6M (Hast. C), N-7M (Hast. B), Inconel 625 (cast equivalent)
Copper Base Alloys
Specification Cast Grades: CDA 87500 (Silicon Brass), CDA 95400 (Aluminum Bronze), CDA 95500, C95800 (Nickel Aluminum Bronze), CDA 90500, CDA 90700 (Tin Bronze)
Cobalt Base Alloys
Stellite 6 (cast equivalent)
Titanium
Special Irons
Ductile Iron, Cast Iron, 28% Chrome Iron
Production Machine Shop
Located in Zachary, Louisiana, our well-staffed machine shop is dedicated to producing precision machined parts using the latest machine tool technology, including extensive CNC equipment. Other equipment includes computer controlled Mazak lathes and horizontal machining center. We are extremely fortunate to have highly-skilled, experienced machinists who take great pride in every machined component that passes through our shop.
Quality Assurance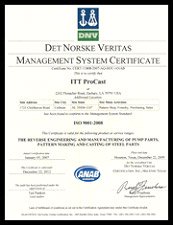 ProCast is ISO 9001:2000 Quality Certified. You can be confident that your replacement parts will be dimensionally correct and the material specified will be the material received. Over the last 30 years ProCast has established a reputation in the industrial market place for providing only the highest quality pump and rotating equipment replacement parts. 
100% dimensional inspection of all parts. Documentation is recorded and filed. 
All pressure containing components are hydro tested. 
All impellers and rotating elements are balanced to ISO G 2.5 as our standard. Special balance specifications can be achieved. 
All materials are checked using an Electron Emissions Spectrometer to insure they adhere to ASTM required chemical compositions.
Before and After
Municipal Treatment Plant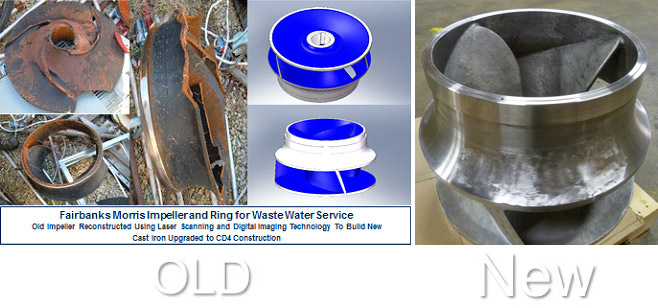 Byron Jackson 48" Circ Water Impellers